Reinforced Concrete Section Generator
Here is a great time saver if you ever need to draw Reinforced Concrete Sections in AutoCAD. You can quickly develop sections of walls, slabs, beams, etc. Simply specify width and height of the concrete section, enter the reinforcing size and spacing. This will draw the concrete outline (to scale), hatch with concrete pattern, and draw reinforcing bar uniformly spaced intervals, and centered on each face. You can quickly develop rectangular "primitive" sections. Combine "primitives" to make more complex sections. Sections are created using standard AutoCAD entities, polylines, donuts(polyline), ar-conc hatch, and associative dimensioning.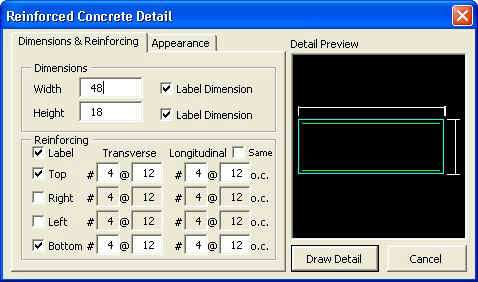 Shown above is the reinforced concrete section generator main interface. Enter the Width and Height in the boxes at the top of the form. The Preview window to the right will dynamically update as the parameters are entered. Next enter the reinforcing requirements, which sides are to receive reinforcing, size and spacing of bars, and if you want it labeled. Click the Draw Detail button, and you will be prompted to select an insertion point for the center of the section.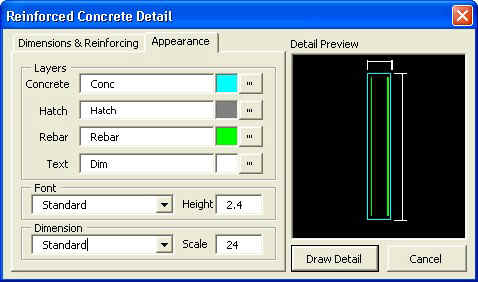 Shown above is the Appearance tab which sets parameters that control the appearance of the details in CAD. You can select layer names and colors to match your company's CAD standards. You can also choose text and dimensioning styles. All settings are saved after each section is created, and applied to next session as default values.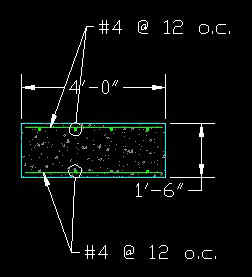 The settings shown in the first two screens shots produced this section. Now, let's create a wall section off to the side to combine with this (footing) section. Then move the wall section using the lower-midpoint to the upper-midpoint of the spread footing. Shown below is the two sections combined into one to create typical wall/spread footing section. Clean up any text conflicts, add your own dowels or keyway as required to connect the pieces, and you've created a 2D typical wall section detail in just a minute.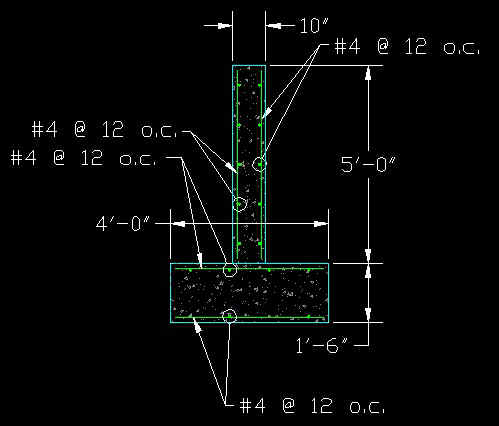 Version Information
| | |
| --- | --- |
| Program Name: | Reinforced Concrete |
| Application Type: | VBA Macro |
| Distribution Format: | ZIP file (187 kb) |
| Last Updated: | January 1, 2005 |
| AutoCAD Version: | AutoCAD 2000 or Later |
| Current Version: | 1.0 |
This download contains the raw source code, (LSP and DVB files) not some slower uncustomizable compiled version. Unzip the downloaded file to your ...\support folder or anywhere in AutoCAD's path. AppLoad "ReinfConc.lsp" and type "ReinfConc" to execute. Please note, this routine was designed to be used with AutoCAD 2000-2009. AutoCAD 2010 and later require the download and installation of Microsoft VBA module from AutoDesk.