Enter the starting contour elevation, or use the "..." button to select a contour, it's current elevation will be displayed as the default. Then specify the contour interval, and whether up or down a slope. once again, you can use the "..." button to select from the drawing. If you have another portion of the map which has already has been set to elevation, you may select the contour interval and slope direction by picking two adjacent contours (as shown below).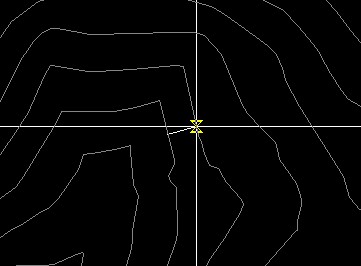 Hit the [proceed] button to continue picking each contour (in order) going up/down a slope. Each contour will highlight allowing the user to maintain position, and see any disconnected segments from the polyline contour.

When done, (or change parameters, such as slope direction) hit [enter] to return to dialog box. you can also choose from color highlighting, AutoCAD's highlight, or no highlighting.